Want to learn all the tricks I know on how to create a core wardrobe from scratch? This is my four-week sew camp, an ongoing adventure for the Backwoods Mama or those who just want to look like one! This course will walk you though the steps to sew your own gear to wear while you tackle the garden, midwife the mama cow, clean out the root cellar and all the other chores calling for your attention at this busy time of year.
Please note this sew camp is intended for the advanced beginner.  Basically, you will need to be familiar with your sewing machine and be comfortable with some garment construction for I won't be going over the absolute beginner basics. Instead, I will be teaching you the tricks I know on how to sew up quality pieces on a limited time. Because, you see,  I have these things called rug rats that call for easy and quick sewing projects!
Through plenty of video and photos, I will walk you through the steps to build a fresh mix and match wardrobe that will consist of four pieces that meet the practical needs of us busy back to the land matriarchs yet also meet our equally important need to look organically stylish and cute. And check it out, I just released the bloomers and utility smock patterns as individual purchases if you would like to sample a taste of backwoods before committing to the full camp experience.
The projects include: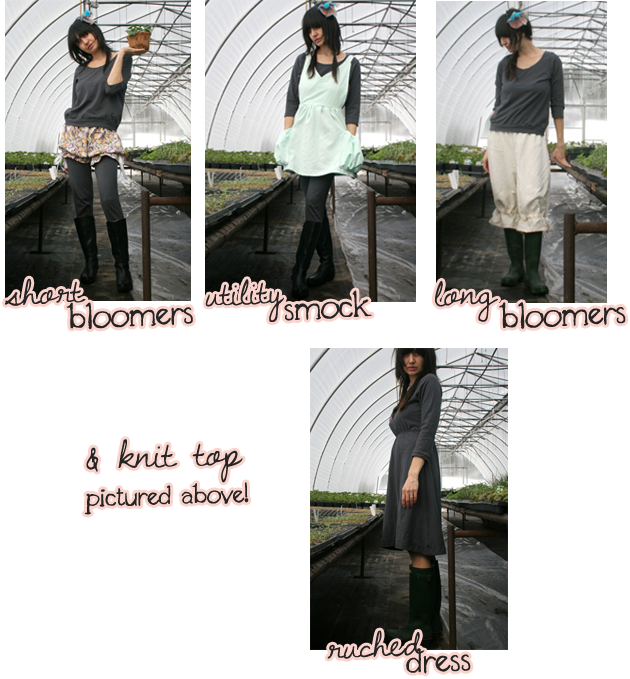 Short + Long Bloomers: Perfect for bike rides to the beach and for just lounging around in. Pattern pieces provided are for the tap shorts version but we will go over how to lengthen to just below the knee. Bloomers cinch up with ribbon and elastic at hem so you can either wear them billowy or as culottes.
Utility Smock: This is a piece that can carry you from gardening to garden party. Two puffy pockets safely stash your seed packets and foraging finds.
Knit Top: This base layer will be sewed up using a stretch fabric – with or without a serger! This versatile tee has 3/4 length sleeves with a wide band hem.
Knit Ruched Dress: You'll feel like a mountain princess sporting this knee length dress which is a variation of the top pattern. The waist will be ruched (several lines of elastic stitching) for a flattering and comfortable fit.
Not to mention, these are easy, quick to whip up. Awesome, because firewood chopping season's always just round the corner!
.
Pattern Sizes
Pattern pieces are sized small, medium and large which will accommodate the following measurements:
bust: 32 to 40 inches
waist: 24 to 34 inches
hips: 34 to 42 inches
.
Cost & Delivery
The course fee is $67 USD which includes:
Pattern pieces that will be available for automatic download
Access to a private blog that hosts instructions via photos, written instructions and video tutorials.
Access to a Flickr group to hold discussion, connect, plus share photos of your finished pieces.
Upon registration the link and password to the course will be emailed to you along with access to the pdf for the sewing projects. Please contact me at kathy [at] blissbeyondnaptime [dot] com  if you have any other questions. Can't wait to sew along with you!
Frequently Asked Questions
Are these ongoing classes or is there a set time to be somewhere or deadline to finish?
These are ongoing classes meaning you can start the projects at any time and finish whenever is most convenient for you. Your access to the private blog will be forever and ever so you can pick up your project whenever the sewing goddesses smile shiniest down to you. 
.
How advanced beginner do I have to be?
Not too advanced. I just want to make it clear that I won't be going over how to use a sewing machine. So if you have some background with playing around with your machine you should do just fine. Plus, you can always email me if you get super stuck with something!
.
How can I connect with other Sew Campers?
There is a flickr group you can join where you can post photos of your creations plus engage in conversation with other campers. 
.
I don't have a serger. Can I still camp with you?
Yes! I will be going over ways to sew a garment with a professional finish; and efficiently work with knit (stretch) fabrics sans serger.
.
Why should I sign up?
Well, there is probably nothing more satisfying than sporting a piece of clothing that you created from scratch in the perfect color and ideal fabric. Well, maybe getting a compliment on that piece might be a tinch more satisfying. On top of that honing a life skill such as making you're own clothes is one more step toward self-sufficiency which is a liberating and exciting notion and maybe even a political statement. Not to mention signing up for one of my Sew Camps will give you that extra oomph needed to back away from those cute kid sewing projects and make something for mama already!
.
Is there a way I can spread the word about these camps and make some coin at the same time?
I'm so glad that you asked! Both classes are available to registered sew campers as part of my affiliate program. If you sign up for a free ejunkie account (these steps will be outlined on your welcome letter) you will be lavished with 50% of whatever sew camp spots that gets sold that are traced back to your site or blog. These funds are plunked straight into your paypal account once a month! I have widgets you can pick from on my home page so all you need to do is mention your sew camp experience to your peeps and your word will pay for your spot, and hopefully then some, before you know it!
Testimonials From Past Sew Mamas
I really enjoyed camp. I loved all of the projects… I honestly don't know what was my favorite… maybe the knit shirt or smock but I loved the bloomers too. Thanks for all the helpful videos, I learned so much! Thanks and sign me up for fall!
-Amylynn
 This sew camp was absolutely amazing. To be encouraged, taught and empowered to create cute and practical clothes was great. Kathy is an amazing, knowledgeable, and fun teacher. Can't wait for the next one! Thank you Kathy.
-Ncole fc
It was also wonderful to work from my home when my children were tucked in their beds at night. The patterns were easy to follow and the clothes turned out so cute! All outfits I love to wear and I am looking forward to making more in other colors. I am more visual and pictures and videos work much better for me than reading a confusing pattern. Fantastic, fun and entertaining!! Kathy made me laugh and not take sewing so seriously, love the wabi-sabi concept!! I need more of that in my life!!
I loved the projects! It felt so special to make something for me, to be able to make that a priority because of the class. I learned so much about using my machine and how to add special details to make my outfits unique. Thank you so much!
-Emilie
Thanks so much for the class! It was very inspiring, and I'm almost done with this week's project… a little shirt for the three year old. Next week's challenge is three year old jeans! And then, of course, back to mama and one of the variations above… So thank you for the great projects and the overall inspiration to just sew!
Kathy, I learned so much in the sew camp. Not just sewing but the idea of pacing a project and being ok if it's not perfect. Also I loved learning new techniques with your help and on my own from your jumping off points. I have a new revitalized passion for sewing!  Thank you!
Oh Kathy you are the blessing. Thank you so much, I hadn't sewn in so long, you gave me something once again to get excited about too. Thank you as well for your further suggestions for the projects, will do!
-Shari