July 31st, 2012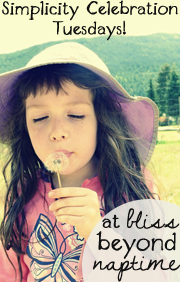 Today for a simplicity celebration I wanted to share an email I received from one of my Simplicity Parenting Ecourse particpants, Tanya. Truly inspiring!
Kathy, I want to thank you for your simplicity parenting ecourse.
You have totally changed my family's life.
We have had a rough go of it the last 4 years and didn't totally see all the things that were happening with our kids until this class.I enrolled in the class because I was desperate to find something to help my four year old. He would not sleep with out me which means in my bed and only when I was laying down with him.
He was hoarding all of his toys into corners of the house all categorized into bags, boxes or baskets. He only would eat certain foods at certain times, he really struggled. My husband and I were exhausted from being kicked and punched all night, this did not lead to the best parenting strategies during the day on my part.
In the first week I decided to work on his sleep. I put a mattress on the floor of our walk in closet and started putting him to bed there. He began starting the night in his own bed, I can't even tell you how awesome that was!! By the third week he was in his own bed in his room with the brother sleeping through the night
I forgot how much I enjoy the evenings with my husband.
We have started going through our house and getting rid of the stuff.
I have big empty spaces in my home now and we all love it.
We are thinking of downsizing to a much smaller house and we are excited about it.
I have started to sew, draw, paint, model and knit again. We have planned out menus and did a bulk cook and it wasn't stressful. We are still working small changes and have a long way to go but I can see the light at the end. We are working towards our dreams instead of wanting for that next big event to rock our world.
On July 3 we went camping our house was hit by a lightening strike.
The house is fine some of the things in the house aren't, the awesome part of this was that we are ok with the loses and don't plan on replacing things. Today someone asked me how much we lost and I was able to say
we lost stuff but the important things were with me and safe.
Thank you, thank you for what you have done for us.
~Tanya
Thanks so much to Tanya for sharing her goose bump giving story!
Have a celebration of the simplicity realm to share this fine Tuesday? Go ahead and leave your simplicity celebration in the comments. And to explore these lightening-proof principles at your own sweet time sign up for the Simplicity Ecourse is now available as a homestudy . Comes with the bonus of a complimentary copy of The Bliss Filled Mama ebook and mp3 until August 9!
xx