June 19th, 2012
Happy Tuesday morning! Let's share some simplicity happenings, shall we?
We have been homeschooling Edie for three years now using a Waldorf-inspired curriculum; two years of kindergarten and this year we sailed through grade one. Gawd it was magic! Introducing the letters through fairy tales, math gnomes, drawings of prince and princess with no faces. Sounds creepy but it's actually really cute.
After the Christmas holidays we decided to have Edie attend a home school enrichment program partially due to my thinking she seemed to be a little down in the dumpsters (that pesky six and half year change). I was told by many kin folk about this gifted Waldorf educator who just started teaching a small class one out of her home; like only eight cuties in there. Edie tried it out and fell deep in love. Like, it's all she talks about.
The only problemo though is that it's forty minutes away and because of that we have to stay in town three days a week killing time while we wait for her little school to let out. And in the winter that's forty minutes of scary winter in the mountains driving; my greatest fear.
This triggered hmmmmm… maybe we should sell the farm and move to town?- type thoughts for a while. But I'm happy to report we're over that now.
Yup,  we're going to stay put here in our little dream house on our little hobby farm (turns out there's some silly bylaw in Nelson that doesn't allow milk cows in one's backyard) and try out the local alternative school in our community in the fall. It's not Waldorf but it's small, sweet and is super progressive in its thinking. There are also some cool mamas I want to get in there with that hang out there so, yeah, I smell a few new best friends around the corner. Plus, no school on Fridays – that's outdoor adventure day!
I still consider myself a Waldorf mama (of the silly variety) and will continue to hold my cherished home-centered rhythms and instill a nurturing, calming, low tech environment that made me fall in love with this amazing philosophy in the first place.
So I'm celebrating this step toward more simplicity this week. A step that is reminding me to live in accordance with our values of resiliency, keeping it local, involvement in community and living sustainably.
As for Kale, so far I plan on offering him the same slow moving pre-school years that Edie enjoyed and offer him a some home schooling years until maybe the coming in of his adult teeth too.
Or maybe we won't.
But whenever we do come to those cross roads we will dial into that compass called our core family values to check in on the path to take at that time of our lives. And using that as a decision making tool usually results in a step toward more simplicity in our lives worth celebrating. On Tuesdays especially.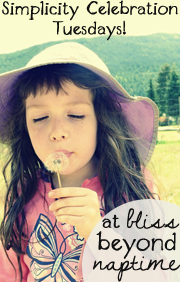 Leave a comment or a link to a blog post of yours sharing a recent simplicity epiphany, celebration; big or small. Which one of your family values does it echo?
And now I got a widdle widget (said while wiggling my digits in the air) that you see up there and you can grab over there (nodding my head to the side bar) to help you toot your simplicity horn on your blog and to invite others to play this simple game with us. Celebrate – feels great!
xx